Archy Addon
Archy – Archaeology Assistant is an assistant for Archaeologists that want information at their finger tips.
Edit: The community is keeping this addon updated at this Link

This addon is a must have for players who are tirelessly Surveying the land for those certain rare Artifacts. With all the new updates, Archy brings control and information to your screen without the need for opening your profession!

Features:
Localized for English, French, German, Russian and Traditional Chinese
Right-click to Survey option now available (similar to Fishing Buddy)
On-screen customizable and movable list for the dig sites on the continent you are current on
On-screen customizable and movable list of the artifacts you are researching that can be filtered to display only the races for the continent you are on
Racial fragment types are shown for each of the dig sites
Solve artifacts with (left click) or without (right click) keystones by clicking on the racial crest icon in the on-screen artifacts list or bind a key for a one stop solve shop
TomTom support to help you navigate between dig sites
Able to display dig sites on the minimap (closest only or all dig sites)
Able to display dig site boundaries on the minimap and battlefield mini map
Blacklist dig sites in the on-screen digsite list by right clicking on the dig site name. Perfect for when you have a bugged node or a dig site that is in a zone that you dislike.
Blacklist races so they do not appear in your artifacts on-screen list and won't be used when the artifact solve keybind is pressed
Sound triggers for when you have enough fragments and/or keystones to solve an artifact
A dig recorder to see where at a dig site you have successful dug and many more features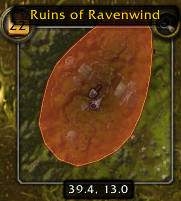 With the December 31st update, you can now significantly customize the look of Archy. This update also added the right-click to Survey functionality.
---
Screenshots (as of December 31st Update)
Below are just some examples of how you can custom the look of Archy.
_______________________________________________________________________________